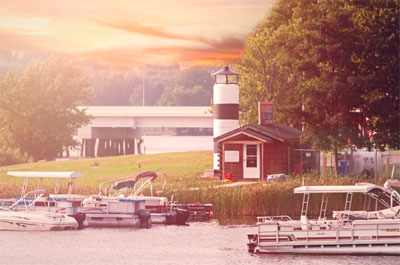 Welcome to Lake Milton, Ohio, a "Summer Place" all year long. When you arrive in Lake Milton in January, July or into the fall you will sense that summer resort feeling. Cross over the causeway and see the shoreline peppered with boat docks, bait shops, boogie board shopping and the sign pointing which way to the beach.

Lake Milton is a great place to visit or to call home. "The Lake" offers modern condo living, cottages and residential living, large and small. Our restaurants offer a taste for every palate, whether you like Italian, Mexican, or Traditional Summer "Eats". For the sports minded, play a round of golf at one of our fine golf courses. Whether you are a pro or just a beginner, take a timeout and join in the fun and challenge of the game. Visit our Boat Club and treat yourself to a day out on the lake. Bring your picnic basket and appetite to the Harry Meshel picnic area. Throughout the year, especially summer, our civic groups plan fun activities that are enjoyed by all, whether young or old. We are proud of our police and fire departments, and everyone is welcome to be involved in our township government.

Come stay a day, a week or forever! Join us in the experience of Lake Milton's tranquility and beauty. All are welcome!
The following link is to a video recording of the meeting that took place December 30th, 2021, for the Mahoning County Public Health O&M. This meeting discusses the O&M Septic rules that may apply to you.
https://transcripts.gotomeeting.com/#/s/1c269876a9746af4f8f844b33d59aa9b8e1bc682f5de1adcbdce388ccbb9dba4